More Jack Than Blues (2016)
More Jack than Blues is a CD/DVD set recorded in 2006 at the 37th German Jazz Festival, Frankfurt, Germany.
Jack joins forces with the hr-Bigband to perform a highly acclaimed concert, presenting classic Cream songs and other landmarks of his career in gripping new arrangements. It was a magic moment of dialogue between Jazz and Rock that roamed between composition, improvisation and vibrant, virtuoso performances.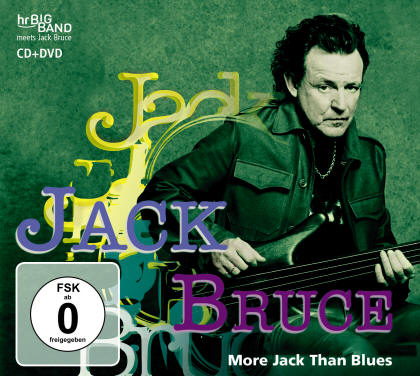 Disc: 1
1. Never Tell Your Mother She's Out Of Tune
2. Rope Ladder To The Moon
3. Spoonful
4. Smiles And Grins
5. Born Under A Bad Sign
6. Theme From An Imaginary Western
7. Milonga
8. The Consul At Sunset
9. We're Going Wrong
10. Deserted Cities Of The Heart
11. Sunshine Of Your Love
Disc: 2
1. Never Tell Your Mother She's Out Of Tune
2. Rope Ladder To The Moon
3. Spoonful
4. Smiles And Grins
5. Born Under A Bad Sign
6. Theme From An Imaginary Western
7. Milonga
8. The Consul At Sunset
9. We're Going Wrong
10. Deserted Cities Of The Heart
11. White Room
12. Sunshine Of Your Love
13. Waiting For The Call