Live at Canterbury Fayre (2003)

Tracks Include:
1. Surge
2. Sunshine Of Your Love
3. 52nd St.
4. This Anger¹s A Liar
5. Theme For An Imaginary Western
6. Milonga
7. Windowless Rooms
8. Dark Heart
9. White Room
10. Politician
Jack Bruce - Vocal, Piano and Fretless Bass
Vernon Reid - Guitar
Bernie Worrell - Hammond Organ and Piano
Robby Ameen - Drums
El Negro Horacio Hernandez - Drums
Richie Flores - Congas and Percussion
For more information see Classic Rock Productions.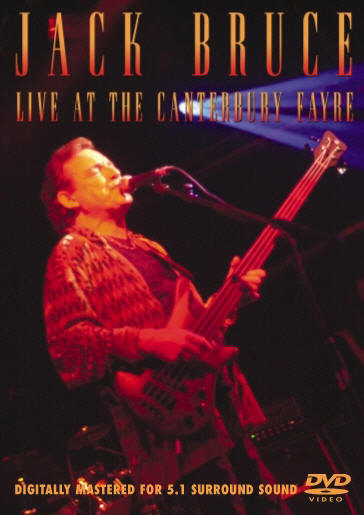 If rock legend Jack Bruce thinks a band is something special, then it¹s really worth checking out....

This is the stunning film of Jack Bruce and the Cuicoland Express captured live at the Canterbury Fayre music festival in the summer of 2002.

Featuring the amazing talents of Living Color guitarist, Vernon Reid, the keyboard magic of Woo Warrior and former Parliament/Funkadelic musical director, Bernie Worrell and the supreme percussion skills of Robby Ameen, El Negro Horacio Hernandez and Richie Flores this is clearly no ordinary band.

In addition to his high energy performance, Jack also takes time out to talk us through his evolving musical values in a changing world and why Canterbury 2002 enjoyed a welcome return to the Jack Bruce set of Cream classics like White Room and Sunshine of your Love alongside vintage solo material including a new take on Theme for an Imaginary Western.