Recent years saw Jack continuing his involvement with his passion - music. In 2007 he was awarded with a Doctor of Music degree from his Alumni College, The Royal Scottish Academy of Music and Drama. Two new albums were released in 2008. The first was Jack Bruce with the HR Big Band, versions of Jack performing songs old and new arranged for the wonderful German orchestra of the Hessische Rundfunk. The second was Seven Moons, an album of new material, with master guitarist, Robin Trower and drummer, Gary Husband. Also released in 2008 was Spirit, a multi-disc set of recordings of Jack's live performances at the BBC. Also released was the six CD box set entitled Can You Follow? which traces his career from the age of nineteen up until 2003.

In 2009 Jack was awarded the degree of Doctor of Letters from Glasgow Caledonian University.

2010 saw the release of Jack's authorized biography, 'Composing Himself.' In 2011, Jack was awarded the third Bass Player International Lifetime Achievement Award at the NAMM Show in Los Angeles, released the amazing album, Live At The Milky Way with his Latin band The Cuicoland Express, toured and recorded with his new band, Spectrum Road featuring Vernon Reid (guitar), John Medeski (keyboards) and Cindy Blackman Santana (drums) as well as playing a special concert at the Royal Festival Hall in London celebrating its 60th anniversary. The event celebrated the 50th anniversary of the Blues in Great Britain, Jack played with his Big Blues Band and special guest Joe Bonamassa.

Festival appearances with his Big Blues Band continued throughout the UK and Europe. Jack also appeared as a special guest of the Stax label tribute band, The Staxs at Cornbury Festival 2011, which was recorded by Abbey Road Studios.

Biography Page 1 | Biography Page 2 | Biography Page 3


During the late 1990s, Jack toured with several iterations of Ringo Starr's All Star Band, along with guitarists Peter Frampton, Todd Rundgren and Dave Edmunds, keyboardists Gary Brooker and Eric Carmen, drummer Simon Kirke, and horn player Mark Rivera.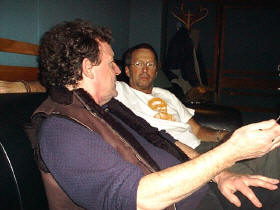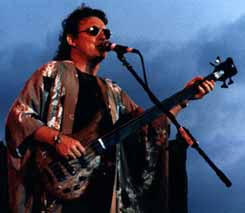 In 1995, Jack concentrated on his keyboard playing and recorded a set of piano solos and duos with organist Bernie Worrell, who played previously with George Clinton, Funkadelic and Talking Heads. The release of the recording, entitled Monkjack, represented a new departure for Jack. He was delighted to have been invited to present this material at the Edinburgh Festival and the Queen Elizabeth Hall in September of that year.
In Copenhagen in the autumn of 1996, Jack took part in the first performances of Michael Mantler's School of Understanding, which has been described by Michael as a "sort-of-an-opera". There were further performances in Berlin early in 1998.

In 1991 Jack performed in Vienna in a new, specially commissioned work with Michael Mantler and Mike Gibbs, accompanied by the Niederoesterreichischen Tonkuenstler Symphony Orchestra. He also completed a successful tour of ten European capitals with his thirteen-piece Latin/Jazz/Rock fusion orchestra. Throughout the early 1990s he increased his knowledge of World music, his two solo albums A Question of Time (Epic/Sony) and Somethin Els (CMP) stating the new direction towards which his music would evolve.
At the Guitar Legends festival in Seville, in 1992, Jack enjoyed playing with Bob Dylan, Keith Richards, Steve Cropper and many other friends.

The year 2003 saw the release of Jack's second album on Sanctuary Records, More Jack Than God. Like its predecessor Shadows in the Air, the album was co-produced by Kip Hanrahan. Among the musicians was the core band from Shadows in the Air, Godfrey Townsend, and Jack's son, Malcolm Bruce. More Jack Than God blended a diverse range of musical styles from classic, Willie Dixon inspired blues, to hints of the Latin and World music flavours that Bruce and Hanrahan explored through the 1980s and 1990s, to the subtle and gentle beauty that reflected Jack's growing introspective approach to songwriting.
The year 2005 was a momentous one. Jack reunited with former bandmates Eric Clapton and Ginger Baker for Cream's first concert tour in 37 years. In May the band played four historic nights at London's Royal Albert Hall, which were recorded and subsequently released on both audio and video. In October the band played three concerts at Madison Square Garden in New York City; during the same week Jack was honored, along with Ron Carter, with the Bass Player Lifetime Achievement Award in recognition of his pioneering musicianship and his outstanding influence on the development of modern bass technique. In February 2006 Jack took the stage at the Grammy Awards in Los Angeles, California to accept a special Recording Academy Lifetime Achievement Award on behalf of Cream.

In 1999 and 2000 Jack returned to the studio with co-producer Kip Hanrahan to record his solo CD, Shadows in the Air, which hit #5 on the UK Jazz & Blues Chart following its 2001 release by Sanctuary Records. The album's cast featured a pantheon of musical guests, including Eric Clapton, Dr John, Gary Moore, Vernon Reid and Changuito Luis Quintana. Jack's supporting 2001-2002 world tour included the talents of Vernon Reid, Bernie Worrell, Robby Ameen, El Negro Horacio Hernandez, and Richie Flores, known collectively as Jack Bruce & The Cuicoland Express.
In 2002 Jack participated in a summer tour with A Walk Down Abbey Road, a tribute to The Beatles featuring Alan Parsons, Todd Rundgren, Mark Farner, Christopher Cross, Godfrey Townsend, John Beck and Steve Murphy. In November, Jack joined Uli Jon Roth, Glenn Hughes and Michael Schenker for the Legends of Rock tour.

Around this time, during the American tour of the first of Jack's own bands (this one featuring guitarist Larry Coryell and Jimi Hendrix's drummer Mitch Mitchell), Jack was introduced to Tony Williams by John McLaughlin. He soon joined Tony's Lifetime, along with John and the late, great Larry Young; an experience he describes as "the musical time of my life". Frustrated by the breakup of Lifetime and greatly saddened by Hendrix's tragic death (Tony and Jack had been talking to Jimi about forming a "dream" band together), Jack found solace in returning to his heavy roots with the formation of West Bruce and Laing with Leslie West and Corky Laing.
From then on, Jack fronted many of his own bands (featuring, amongst others, such side people as Carla Bley, Mick Taylor, Simon Phillips, Tony Hymas, Billy Cobham, David Sancious and Gary Moore), recording numerous solo albums as well as collaborating on special projects with artists like Carla Bley (Escalator Over The Hill) and Kip Hanrahan (Desire Develops An Edge). He also worked as session man on carefully chosen dates with the likes of Lou Reed (Berlin) and Frank Zappa, with whom Jack co-wrote Apostrophe, which became Frank's biggest selling album.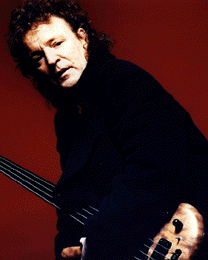 The year 1993 was special, starting with Jack's induction into the Rock & Roll Hall of Fame as a member of Cream, and ending with an inspired fiftieth birthday concert which featured many of his old friends including Dick Heckstall-Smith, Maggie Reilly and Gary Moore. This event which was recorded and released as a CD box set entitled Cities of the Heart (CMP) led to Jack forming BBM with Gary Moore and Ginger Baker and subsequently releasing the top-ten album Around the Next Dream (Virgin).